Gold remains well bid after trading above $2000 on Friday for the first time since May. The yellow metal continues to be supported by flight-to-quality flows stemming largely from high geopolitical tensions.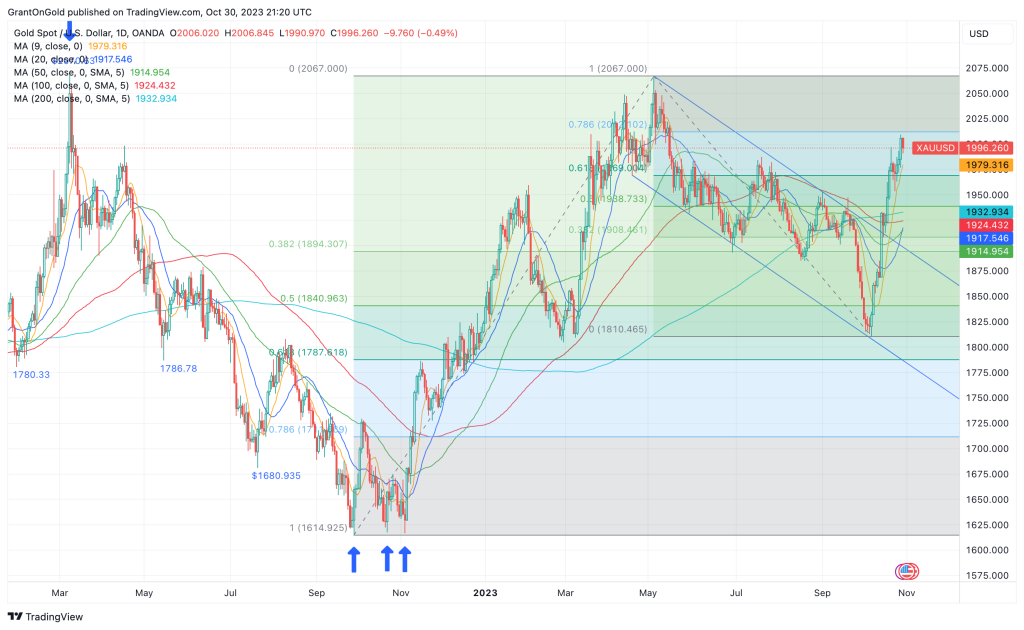 With the IDF expanding ground operations into the Gaza Strip, there is growing concern that Iran may prompt Hezbollah, its proxy in the north, to open a second front against Israel. According to an op-ed in Monday's Wall Street Journal, "Tehran can't sit back and watch Israel obliterate Hamas."
In an effort to quell the potential for expansion to a broader regional conflict, the U.S. continues to deploy additional troops and advisors to the area. Iranian-backed militias have already perpetrated attacks against U.S. forces in Syria and Iraq.
While the war in the Middle East seems to have pushed Ukraine from the headlines, that war rages on as well. Russia launched an offensive this month in an effort to take the town of Avdiivka in the contested Donbas region. Both sides are reportedly experiencing heavy losses.
Russian defense minister Sergei Shoigu speaking at a defense forum in Beijing accused the U.S. of stoking geopolitical tensions and warned of the risk of conflict between nuclear-armed countries. "Having provoked an acute crisis in Europe, the West is seeking to spread conflict potential to the Asia-Pacific region, and in several directions," said Shoigu.
Robust U.S. economic data may be tempering the upside for gold amid rising concerns that the Fed may hike rates again before year-end. Advance Q3 GDP came in at a blistering 4.9% pace, the fastest pace in nearly 2 years.
Consumer spending is the driving force, but analysts wonder how long it can last. Evidence suggests that savings are being depleted and consumers are increasingly turning to credit cards.
The average APR on retail credit cards hit a new all-time high of 28.93% according to Bankrate. Even bank cards are approaching 30% APR for those with less than pristine credit ratings.
A CFPB report found that credit card companies charged borrowers a record-high $130 bln in interest and fees in 2022. Total credit card debt is now more than $1 trillion, while total household debt exceeded $17 trillion at the end of Q2.
American consumers are seemingly following the lead of their government, which has accumulated more than $30 trillion in debt. Spending what you do not have is de rigueur, putting the Fed in a bit of a bind.
Silver
Silver closed down 1.16% last week, ending the string of higher weekly closes at two. The white metal is not garnering the same haven interest as gold, focusing instead on the economic uncertainty associated with war along with the rest of the commodity complex.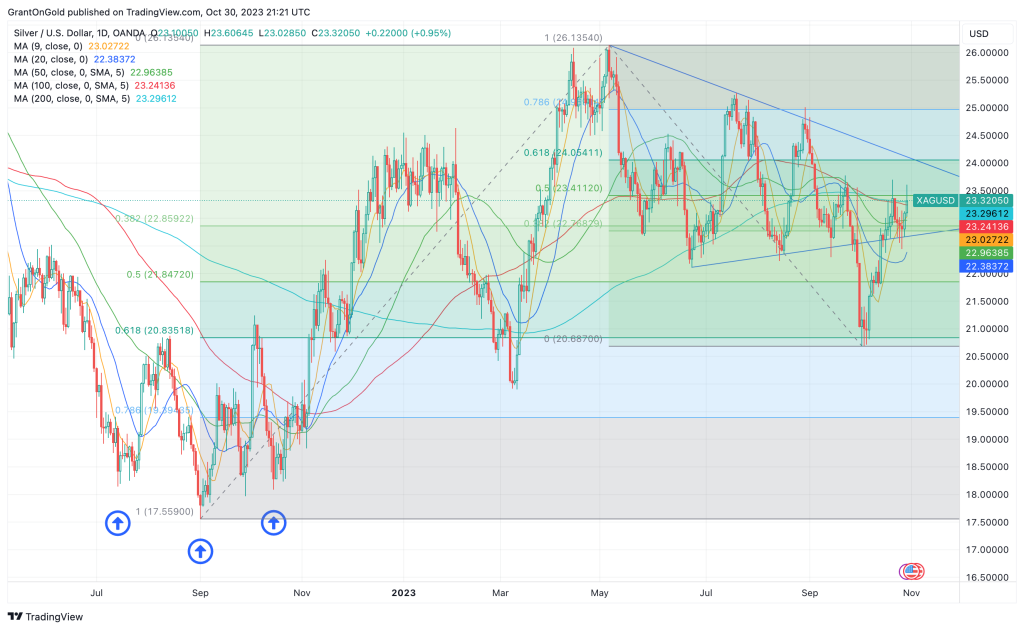 The rally since the beginning of the Middle East conflict has stalled in a range where the major moving averages have converged. The old range that held for much of the summer between $26.14 and $22.11 is back in play.
Selling silver in a flight-to-quality environment is not a particularly attractive play. Look for at least a slight upward bias to persist, particularly if the Fed remains on hold. If gold pushes higher toward new all-time highs, investors may well turn to silver as a less-expensive alternative.
A rebound above the $24.05 Fibonacci level would set a more favorable tone within the range, shifting focus to the $25.27 high from 17-Jul.
A retreat below $22.00 would suggest potential for further retracement to $21.57.
PGMs
Platinum jumped nearly 3.5% on Monday, adding to gains seen over the previous three weeks. The breach of nearby technical levels may have sparked the gains, sending platinum back above the midpoint of the Covid-era range as well as the 100-day SMA.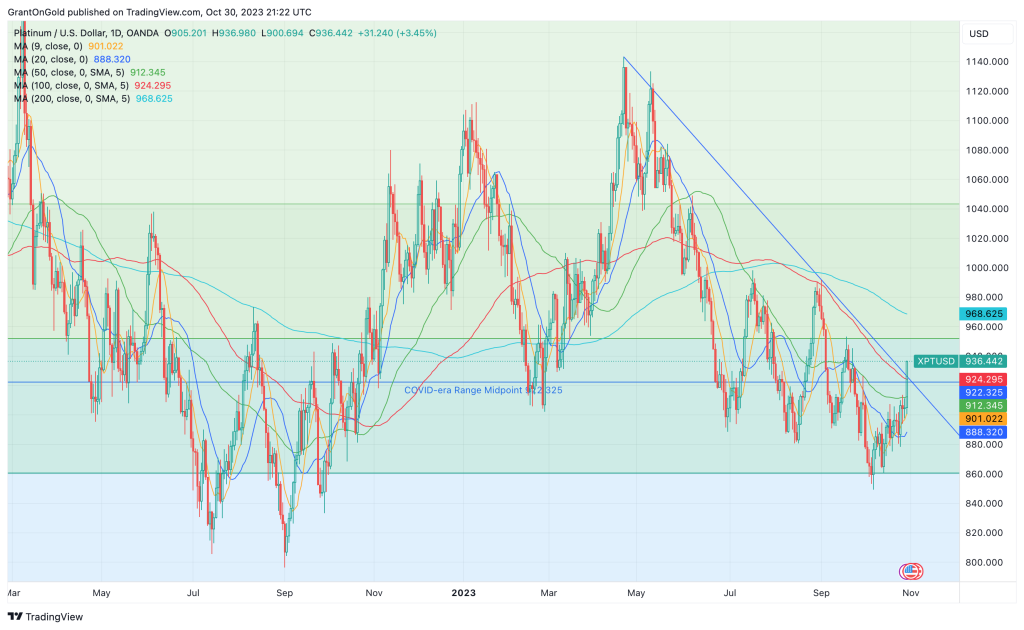 A Bloomberg article over the weekend suggested that traders and banks were showing renewed interest in Russian metals. This may be impacting prices favorably at least initially even though in theory it could conceivably increase the supply of PGMs.
Palladium is off the 5-year low set last week, but upticks appear to be corrective in nature. The trend remains definitively bearish.
Non-Reliance and Risk Disclosure: The opinions expressed here are for general information purposes only and should not be construed as trade recommendations, nor a solicitation of an offer to buy or sell any precious metals product. The material presented is based on information that we consider reliable, but we do not represent that it is accurate, complete, and/or up-to-date, and it should not be relied on as such. Opinions expressed are current as of the time of posting and only represent the views of the author and not those of Zaner Metals LLC unless otherwise expressly noted.